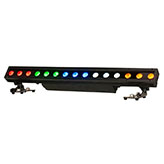 Adj 15 Hex Bar
The ADJ 15 HEX BAR IP is an IP65 rated multi-functional wash linear fixture for indoor or outdoor use. It features 15x 12W HEX LEDs (6-IN-1 – RGBWA+UV), 5 individually controlled sections with Zone Control and a 25-degree beam angle. With an all metal, black housing and IP65 outdoor rating, its protected from elements - dust, sand, moisture and liquids. It includes a removable diffusion filter to change the beam angle.
On the rear panel it features, IP65 rated, 5-pin XLR, DMX In/Out connections, and Seetronic IP65 rated, power locking In/Out connections to daisy chain power and data. Both the DMX and power connections are fitted with rubber protective covers. An OLED display with touch buttons helps to easily navigate the functions of the fixture.
The 15 HEX BAR IP is flicker free for film and broadcast, and has multiple DMX control modes and dimming modes.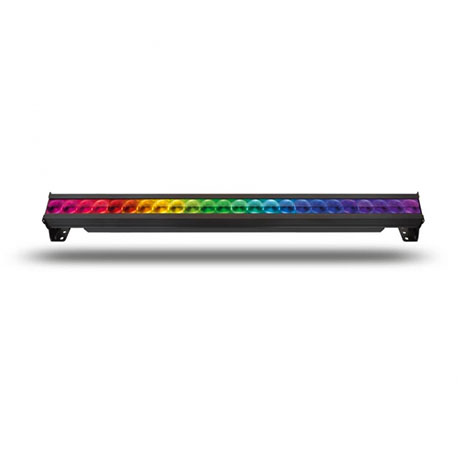 Color Force II 72™
The Chroma-Q® Color Force II 72™ is a truly multi-purpose LED fixture that is suitable for numerous entertainment lighting disciplines. With four powerful homogenized cells per foot/305mm, these units can be grouped and controlled to release your creativity. Unsightly color shadowing is eliminated with this innovative optical system that gives power enough to light nearly 12m of cyclorama. Perfect for a wide range of cyclorama, flood, and wall washing applications where a powerful throw is needed. Available in 6 ft / 1.8m, 4 ft / 1.2m, 1 ft / 0.3m versions, these fixtures are specifically designed to fit in flight cases used with the original Color Force.
Product Features
Featuring Chroma-Q's proven award-winning technology
Over 18,000 hot lumens will easily wash a 12m / 39 ft. cyc
Extremely smooth, uniform output
Homogenized RGBA colour mixing
Pixel control to 76mm/3in increments
High CRI of 92
Theatrical grade dimming
Rugged extruded aluminium body
Built-in power supply
Chroma-Q calibration means: superior fixture-to-fixture consistency
Works great in any theatre, TV, concert touring, exhibition, or corporate event
Optional internal LumenRadio
Touchscreen user interface