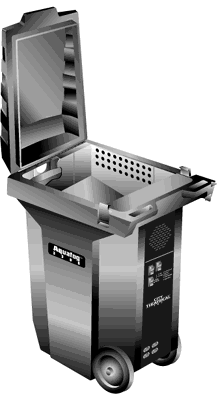 City Theatrical AQUAFOG 3300™
A new concept in dry ice fog. This water-based system is light-weight, portable and durable, allowing you to create large amounts of billowing fog. The AQUAFOG 3300™ features a durable molded thermoplastic tank for corrosion resistance and light weight. No more rusting steel drums to replace. The large lid lifts for easy loading of the stainless steel ice shelf. All electrical components are conveniently located behind the electrical panel. A powerful stainless steel pump brings heated water from the tank up to the dry ice. A 6" fan pressurizes the tank and sends the fog out to the stage.
TANK
The heart of the AQUAFOG 3300™ is our custom designed and molded plastic tank. Plastic is both lightweight and corrosion resistant, and many of the plumbing and electrical fittings use pressure seals to ensure extended leak-proof use. The large lid makes it easy to lay the ice in the machine.
ELECTRICAL
AQUAFOG 3300™ conveniently plugs into wall outlets, no need for 220 volts. Circuit breakers control the dual 1650 watt heating elements, fan and pump. Indicator lights show the status of the water temperature and heating elements at a glance. A low water level cutout switch assures that the heaters will not operate if the water is low. The sophisticated adjustable water temperature circuit will bring the temperature from a range of 100 through 160 degrees (F) and will maintain termperature all through your long rehearsals. The convenient 4-plug system allows for easy remote control.
DOLLY
The large 8" rear wheels and the 3 1/2" front swivel casters make moving a breeze.
Product Features
4 NEMA 5-15 IEC power inputs
Unit Requires at least 3 20 amp circuits, prefferably 4
Award winning lightweight, portable, dry ice fog machine holds 28 gallons of water and 75 lbs. of dry ice
120v electrical system with circuit breakers, indicator lights for water temperature and heating element status, low-water cutout protection and an adjustable sensing circuit to maintain temperature over extended use periods
Non-corroding thermoplastic tank features an extra large access lid for easy loading with integral casters for transport