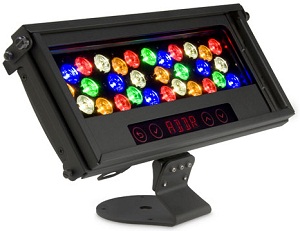 Philips ColorBlast TRX
ColorBlast® TRX is a fully-featured RGBAW LED wash/flood/spotlight, offering enhanced color range, light output of up to 1577 lumens, and onboard addressing and configuration features. Ideal for theatrical and rental distributors, exhibition houses, theaters, nightclubs, and other entertainment venues, rugged ColorBlast TRX is designed to withstand demanding stage, set, and touring environments.
Product Features
Five-channel RGBAW in/out, three-channel RGB in/out, and three-channel RGB in mapped to five-channel RGBAW out modes.
Amber and neutral white LEDs seamlessly blend with red, green, and blue LEDs to produce a significantly expanded color palette, adding intense yellows, high-quality whites, and a range of subtle pastel colors to the millions of saturated colors achievable with standard RGB lighting fixtures.
DMX and fixed color modes. 16-bit resolution supports smooth dimming and precise color control. Adjustable dimming curves and LED transition speeds emulate the behavior of other Philips Color Kinetics fixtures and conventional theatrical fixtures with DMX dimming.
Touch-sensitive menus offer direct access to all on-board functions. Fixture self-test visually confirms proper fixture operation, while diagnostics display information such as serial number, operating temperature, and input voltage.
Pivoting bezel and included 23° soft-focus and 10° clear tempered glass spread lenses let you switch quickly between soft-edge wash lighting and extended beam projection.
An industrial-grade constant torque hinge for 110° fixture tilting and aiming.
A pre-assembled mounting base accommodates truss clamps and other mounting and positioning options. Built-in 6 ft (1.8 m) power cables can be extended up to 175 ft (53.3 m) with standard color scroller or XLR patch cables. An integral safety bracket lets you easily attach a safety tether.
Top hats, half top hats, barndoors, egg crate louvers, and spread lenses easily mount to the included accessory holder.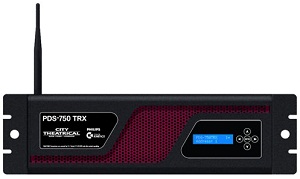 City Theatrical PDS-750 TRX
A versatile, quiet, multi-protocol power / data supply designed for entertainment and event installations with Philips Color Kinetics fixtures, including the latest generation of LED lighting: ColorBlast TRX, ColorBlast TR (16 and 8 bit), and iW Blast TR.
Product Features
12 output ports
Accepts KiNET, Streaming ACN, and Art-Net. Supports USITT standard 5-pin DMX and ESTA RDM
DMX input and output. Includes wireless DMX via a built-in SHoW wireless receiver. Compatible with our SHoW Wireless DMX units
Built-in Ethernet switch provides pass-thru to downstream devices. Built-in Ethernet node gateway allows output to one of two virtual DMX512 universes.
On-board controls include addressing, fixture configuration, and triggering of seven configurable visual effects
Convection cooled for noiseless operation
NEMA 1 (IP20) enclosure is ideal for temporary installations and demanding environments typical of entertainment and rental applications
Small form factor, with an integrated carrying handle that can be mounted via C-clamp on a pipe or truss.
Automatically accommodates input voltages ranging from 100 VAC to 240 VAC