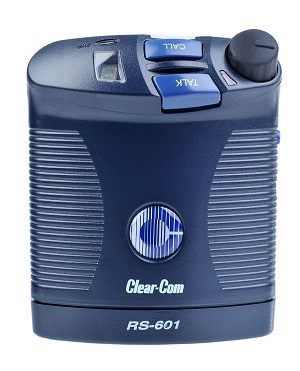 RS-601 Clear-Com Belt Pack
The RS-600 Series beltpacks offer the best sounding party-line in the business. Exclusive audio shaping, powerful, high-headroom headphone amps, noiseless switching and built-in mic limiters are key parts of the package. The RS-600 Series are designed to serve the needs of all users, whether first time or experienced pros. All models offer a host of leading-edge features with simple-to-use operation. They provide excellent audio quality and are rugged enough to survive the day-to-day usage of demanding professional applications.


Each of the beltpack's functions are easily customized to fit the users needs. This is accomplished with on-board setup, which provides access to the most commonly varied functions (Talk button latch type, Call on Talk, Mic Level, etc.). For the most demanding applications, additional options can be selected from a PC with the V-Pack software. In either case, once set up, the beltpack holds up to four of these configurations, called Modes, in memory until changed again, even if disconnected from a system. If the original factory default modes are desired, they can quickly be recalled.


All beltpacks are housed in a custom designed ABS enclosure, engineered to withstand demanding day-after-day use even in high-intensity situations. Ergonomically placed controls and ample status indicators allow an effortless workflow.
Product Features
Lightweight and ergonomic
Rugged construction
Built-in limiters for mic and headset
Electret mic compatible
Visual and Audio Call Signals
Onboard setup with LED assistance
Auxiliary headset jack for Clear-Com CC-25 ultra-light headset
Stores four set-up Modes
Built in audio shaping and mic noise gate
Program Input w/level control
Fully compatible with all Clear-Com party-line systems