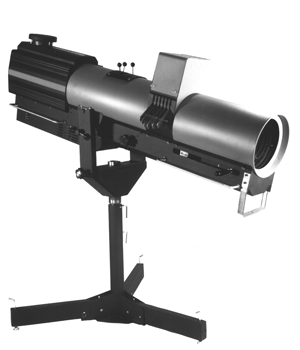 Lycian 1290 XLT
The luminaire shall be a 2000 watt follow spotlight designed to be used with various manufacturer's 2kw xenon lamps. The optical train shall consist of a highprecision, electro-formed, coated reflector, heavy duty nichrome iris, chopping shutter, gobo holder, fader, effect slot and a single lever variable focal length zoom objective lens system. A rapid focus knob located on both sides of the spotlight shall focus within 4 revolutions. All lenses shall be clear optical grade lenses. The color boomerang shall be mid-mounted and reversible and use industry standard 9" frames. Top mounted controls for the iris, fader, and shutter along with dual control for zoom and a reversible color boom shall make the spotlight readily convertible from right to left operation. Power for the spotlight shall be a bottom mounted self-contained power tray and shall be readily removable for servicing. Cooling shall be provided by three quiet blowers. A slide control shall be provided to adjust the tilt balance to suit individual operators. The spotlight body shall be constructed of cold rolled sheet steel and aluminum extrusions and shall be finished in light grey and black wrinkle powder coated baked finish. A three legged folding base shall be provided. Head dimensions shall not exceed 73"L x 22.5"H x 19.5"W (including controls) with a head weight of 187 lbs. The spotlight shall be internally switchable to operate on either 100-120 or 208-240 VAC 50 or 60 Hz. The spotlight is of the xenon type which must be operated and maintained by individuals trained in the operation, maintenance, and hazards of xenon lamps. The spotlight shall be the Lycian Stage Lighting Model 1290 XLT.
Product Features
2000 watt xenon lamp
Head weight: 187 lbs
Reversable color boom
208-240 volt AC
L14-30 connector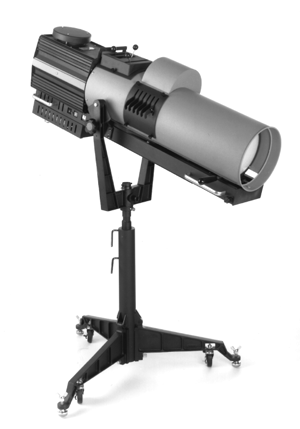 Lycian 1275 Superstar 1.2
The luminaire shall be a 1200 watt follow spotlight designed only for a 1200-HB metal halide lamp. A 1200 HMI lamp can be substituted with reduced output. A single lever variable focus optical system using a galvanized steel cable linkage shall be employed; ribbons or cams shall not be acceptable. A gate assembly consisting of a nichrome steel heavy duty iris, paired stainless steel trim shutters, gobo slot and heavy duty fading shutter shall be provided. Focus shall be via an external knob. Optical grade white water plate glass lenses only shall be used. Plastic or green lenses shall not be acceptable. The spotlight housing shall be extruded aluminum and sheet steel finished in black and gray epoxy powder-coated wrinkle finish. A six color automatic self-cancelling color boomerang shall be provided. Field control and "x" and "y" axes shall be external; internal controls shall not be acceptable. Lamp mounting shall be of the shock mount type. A safety switch shall be fitted to the lamp house top. Power to the spotlight shall be controlled via two push buttons mounted in the spotlight head. Removal of the lamp house top or loss of power shall render the spotlight in the "off" mode. Replacement of the top or reinstating power will not unexpectedly relight the lamp. To restrike the lamp will require a momentary push of the "on" button. The spotlight is supplied with a silvered glass reflector. An operations unit containing the unit's electronics is quickly accessible from the bottom of the spotlight head. A quick release multipin connector shall be mounted on the bottom of the spotlight for connection to the remote ballast unit. The ballast chassis shall have a 20 amp. circuit breaker, be constructed of extruded aluminum with stamped side and end parts, and may be operated in an upright or horizontal position or stacked in multiples. The unit shall include an elapsed time meter. The yoke shall be part of the head and allow for a maximum tilt of 55 degrees below horizontal and 50 degrees above horizontal. A stable three legged, folding base with locking casters and leveling jacks shall be provided. The spotlight shall be fan cooled. Housing dimensions shall not exceed 48"(L) x 17"(W) x 19"(H) including all controls. Net weight of the spotlight head shall not exceed 86 lbs. and 41 lbs. for the base. Current draw at 120 VAC shall not exceed 15 amps. Photometric data shall conform to the table provided. The luminaire shall be a Lycian Stage Lighting SuperStar 1.2 Model 1275. LYCIAN S
Product Features
External ballast with a NEMA 5-15 edison connector
1200W lamp
Six color boomerang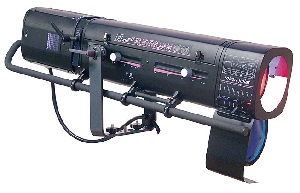 SUPER KORRIGAN 1200 Watt HMI
7°-14.5° Zoom - 110V
Super Korrigan is a new model of the 1,200W HMI Korrigan followspot. With its new high performance double condenser optical system it produces 25% more light output than the older model and incorporates the popular fingertip shutter control that was first introduced in the Manon/Topaze series.
Product Features
External ballast with a NEMA 5-15 edison connector
Lamp: HMI 1200 W/GS Hot Restrike
Six color boomerang color changer
Available "A" Size Universal Gobo Holder
100% Closing Iris
100% Closing Mechanical Dimmer
Frost on Flip Lever
Tripod stand with individual leveling legs