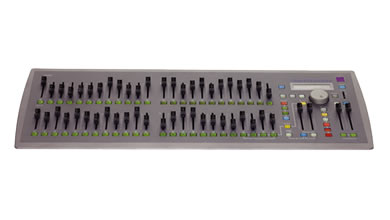 ETC SmartFade 24/96
SmartFade compact lighting control console, from ETC. Way more than a two-scene preset board. This is a compact console with serious power under the hood. Take it to a gig or make it your back-up board in a DMX system. Available in three configurations, SmartFade gives you big ETC lighting control quality at a compact price. Easy to use, powerful to play with - including a rich special-feature set when you need it.
You don't have to be a lighting professional to use SmartFade -- the most powerful little lighting desk you already know how to use.
ETC's Smart Solutions family just got even smarter, with SmartFade lighting control.
Product Features
48 24-step sequences
99-step Stack sequence
Manual or timed fades
"Magic" button for random output
"Snapshot" temporary memory storage
Master fader and Blackout button
Bumps master fader and solo
DMX out and DMX in
MIDI in and MIDI out
USB connection for software download
SD card slot for show storage
English, French, German & Spanish LCD support