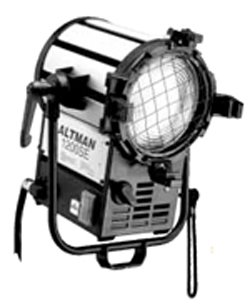 Altman's 1200SE-M Daylight Fresnel
The Altman 1200SE is a rugged high-output fresnel designed for use in the video and film industries where an intense even field with sharp cutting capability is desired. Utilizing the compact single-ended line of metal-halide lamps, the luminaire delivers ex- cellent daylight quality from a small compact package and is useful in any situation where daylight color balance is required. The 1200SE is focusable from spot to flood and can be used as a daylight booster, key light or fill-light. The 1200SE-M is supplied with a mag- netic ballast. Included in every PROLINE fix-ture is the Altman F/S EZ Glide System, which allows the tray assembly to flood and spot with ease.
Product Features
Rents complete with a 1-1/8 spud, full and half scrims,barn door and a 9" round color frame
1200 watt HMI lamp
Daylight color temperature
Spot-to-flood focus adjustment
Rugged lightweight die-cast and extruded aluminum housing
Easy-operation focusing control with Teflon® guides
Spring-loaded top accessories latch
Automatic safety cutoff switch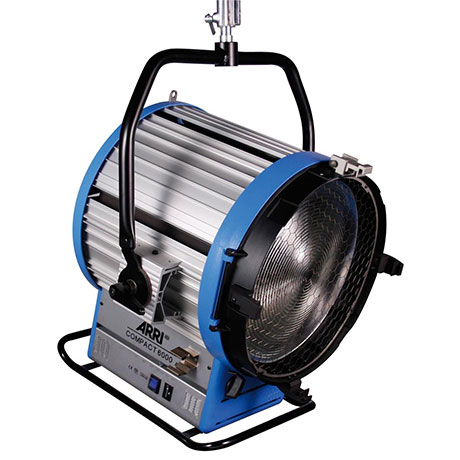 ARRI's Daylight Compact 6000 Plus HMI Fresnel
ARRI's Daylight Compact 6000 Plus HMI Fresnel is the choice of discerning professionals who need a great deal of light at minimal weight. Its clean modular construction and IP 23 rated weather-resistant design hint at this light's carefully wrought design features. The wire-guarded 16.5" Fresnel lens is part of a hinged swing-away door with integral accessory holders that enables rapid lamp swapping. Front and back focusing knobs make beam adjustments easy regardless of placement and there's a focus position indicator so that you can easily match settings to other lights. The sturdy yoke is fitted with a 1 1/8" stud for stands and accessories with a junior receiver.
Product Features
High efficiency, wide-angle lens
Corrosion-resistant aluminum construction
Extremely even light distribution
Focus position indicator
Focus knob on front and rear
Easy service access
Wide range of accessories
Pole-operated versions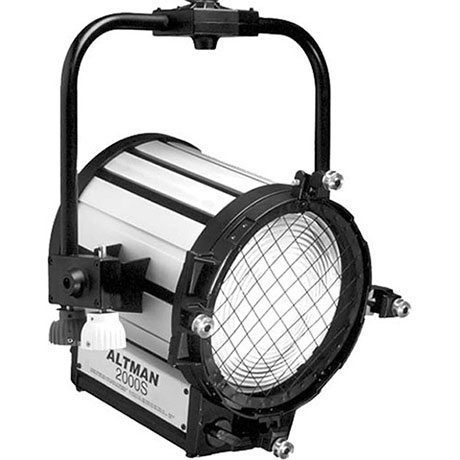 Altman's 5000L Tungsten Fresnel
Power and versatility make this instrument a workhorse as a keylight, backlight or kicker. The 5000L features a front door with spring action top accessory ear, heavy-duty on-board switch, a short lead for grid use or a 25' cable for stand mounting. This unit also comes with 250 mm short focus lens, safety screen, tubular steel yoke with 11/8" pin or heavy-duty pipe clamp, cord wrap and hinged filter frame. This fixture accepts all standard 13"(33cm) accessories. Included in every Proline fixture is Altman's new "F/S EZ Glide System" which allows the tray assembly to flood and spot with ease.
Product Features
Rents complete with a 1-1/8 spud, full and half scrims,barn door and a 13" round color frame
Rugged lightweight die-cast and extruded aluminum housing
Rib design for superior strength and ventilation
Easy operating focusing control with Teflon guides
Spring loaded top accessories latch
Lightweight, tubular steel yoke
Non-corroding materials and hardware
Hinged filter frame included
Wire safety screen included
U.L., c.U.L. and CE listed for 5000 watts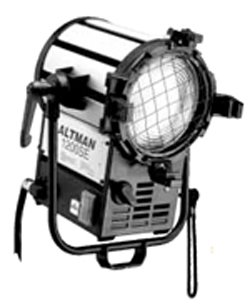 Altman's PROLINE 5000s Tungsten Fresnel
The Proline 5000S produces a powerful and extremely wide 61° spread with a smooth, even field. Serves as a keylight or backlight for film, video, broadcast and cable studio applications or for heavy location work. Features a front door with spring action top accessory ear, heavy-duty on-board switch, short lead for grid use or a 25' cable for stand mounting. A 300mm short focus lens, safety screen,tubular steel yoke with 11/8" pin or heavy duty-pipe clamp, cord wrap and hinged filter frame. Accepts all standard 15 1/2" (39.37cm) accessories. Also available for this unit are 4-leaf or 8-leaf barndoors, a 3-in-1 snoot set, and a full compliment of scrims. This fixture is available in stand mounted, hanging and pole operated versions. Included in every Proline fixture is Altman's new "F/S EZ Glide System" which allows the tray assembly to flood and spot with ease
Product Features
Rents complete with a 1-1/8 spud, full and half scrims,barn door and a 9" round color frame
Rugged lightweight die-cast and extruded aluminum housing
Rib design for superior strength and ventilation
Easy operating focusing control with Teflon guides
Spring loaded top accessories latch
Lightweight, tubular steel yoke
Non-corroding materials and hardware
Hinged filter frame included
Wire safety screen included
U.L., c.U.L. and CE listed for 5000 watts