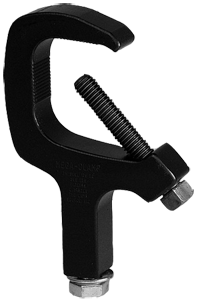 Mega C-Clamps
The Mega-Clamp is the world's new standard theatrical lighting C-Clamp. The Mega-Clamp is created from high tensile, aircraft grade, extruded aluminum, so it's both stronger and lighter than cast iron clamps. The Mega-Clamp's safety factor far exceeds industry standards, breaking at over 2-1/2 tons at an independant testing laboratory. It is half the weight, and twice as strong as most cast iron clamps.
The Mega-clamp, in 1993, introduced to the industry the one piece solid aluminum clamp body, micro grooves to grip the pipe securely, and the spring loaded pan adjustment. The solid one piece clamp body is designed to grip pipe with it's micro grooves, and will not "rock" when making adjustments to the light fixture. The Belleville spring washer has 600# of spring load when compressed. This spring pressure keeps the fixture from drifting after making small pan adjustments to the light fixture. Just grab the fixture by the top of the yoke and twist to pan the fixture. Usually, you will not need to pull out your wrench to tighten the pan bolt, the fixture will stay securely held. The Mega-Clamp fits from 1" pipe to 2" pipe sizes (1-1/4" OD to 2.375" inch OD tubes.) This means you can hang fixtures from a 2"pipe. The Mega-Clamp fits the larger pipe, standard.
Product Features
Safe Vertical Working Load : 600 lb 273 kg
Minimum Size : 1" pipe, 1.315" OD
Maximum Size : 2" pipe, 2.375" OD
Extruded aluminum construction
Diminsions : 5.875" tall x 3.675" wide x 1" thick
Weight : 13.4 oz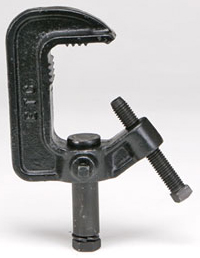 ETC C-Clamps
A cast iron C-clamp made by ETC. Powder coated black finish. Open jaw size is 1 7/8".
Product Features
Pan stud and locking bolt
Jaw opens to 1 7/8"