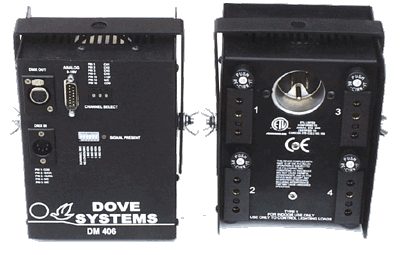 Dove DM406
The Dimmermaster 406 SSP shoebox trussmount dimmer is a very compact unit with four 1000W dimmers and stage pin outlets. It may be pipe or tree mounted and is perfect for tight spaces where conventional dimmer packs are too bulky. The unit accepts both DMX-512 or 0 to +10VDC control signals. The starting channel is set on a thumbwheel switch, which also provides load testing and local control. A status LED indicates the presence of a DMX control signal. With both male and female XLR connectors, the control signal may be daisy-chained from pack to pack. The DM-406 gets its power from a single standard 15 Amp wall outlet, and has a maximum total capacity of 1.8 kW.
.
Product Features
4 10 amp dimmers
1 NEMA 5-15 input
4 stage pin panel mount outputs
Rated for 1800 watts max
Controlled via DMX or analog
5 pin XLR DMX input and output
RS-232 analog input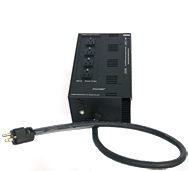 Lex Anaconda
Portable or truss-mount dimmer with four 600W dimmers. Connectors are NEMA 5-15 Edison type inputs and stage pin output. Control dimmers using DMX512 or the on-board controller.
Product Features
Four 600W dimmers
2 NEMA 5-15 Edison inputs
4 stage pin outputs
Easy to operate LED user interface for addressing and setup
Controlled with DMX512 or with on-board controller
User selectable as a non dim relay
Lamp preheat feature
Neutral and ground miswiring protection
Ruggedized enclosure to survive portable or rental use
Circuit breaker protected (no fuses)
DMX start address or dimmer soft patching
Industry standard filtering
Integrated DMX termination switch
Phase indicator LED's
Integral ½" stud accepts standard C-clamp, Unistrut nut, etc.