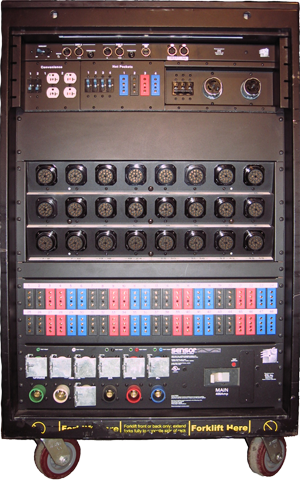 ETC Sensor 48 touring rack
Our ETC 48 channel touring rack was custom built to our specifications, resulting in a very versitile dimming rack with electrical distribution built in. Power input and pass through is fed via six Cam-Type panel mounts. The sixth is an additional neutral cam, to handle the heavy loads that can be pulled across the neutral with the dynamic loads that can be required to run a rock show. This rack is controled by a CEM+ module that allows control via either DMX or sACN. It has two 5 pin XLR inputs and outputs for DMX and 1 ethernet for ACN.It has 24 2.4 amp dimmers that can be utilized three ways. There are 48 panel mount stage pin connectors also there are 8 6 circuit socapex connectors that are hardwired to the dimmers. In addition to this every dimmer has four ouputs in the patch bay. In additon to the eight socapex that are hard wired to the dimmers there are 16 6 circuit socapex connectors that go to the patch bay. Couple all of this with two 50 amp CS-50 panel mount outputs to run your chain motor distro off of, two edison and four stage pin convenience outlets and you have a very powerfull dimmer/distro in a very compact package.
We have also installed a smart link card in this rack. This allows you to save and play back your looks from a 10 button remote. Easy as playing a look from your console. Record them to one of the buttons on the remote by holding it down for five seconds. Then you can play them back direct in the rack's brain without a console, or you can trigger looks from a location other than front of house .
Product Features
Cam-lok type power inputs with pass thru's
Dual neutral inputs and outputs
48 20 amp dimmers
8 socapex panel mounts that are hardwired to the dimmers
16 socapex panel mounts that are wired to the patch bay
4 patch bay outputs per dimmer
1 phase colored stage pin outlet per dimmer
2 panel mount CS-50 outlets, protected by a 50 amp breaker
Phase balanced with color coded stage pin outlets
CEM+ control module
Two universes of DMX inputs and outputs, 1 ethernet input
Control via ACN or DMX
Smartlink installed for remote triggering from a 10 button wall station
2 edison convenience outlets
4 stage pin hot pockets
Accesories Available
Smart Link 10 button station
D20E module - Dual 20 amp 500μS risetime - Enhanced 100-120V module
CC20 module - Dual constant 20 amp circuit breaker module
R20 module - Dual 20 amp DMX controled on/off relay module