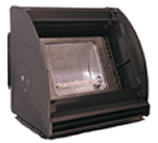 Altman Focusing Cyclorama
The award-winning Focusing Cyc is a lightweight, compact luminaire designed to provide an even wash of light on cycloramas and backdrops. This lighting instrument can also be used as a multi- purpose flood/fill light for stage and studio lighting applications. The Focusing Cyc has been designed and engineered with a number of innovative details and features that enhance its versatility, efficiency, and performance. Each compartment has a state-of-the-art, highly polished and peened reflector that pivots about the lamp for precision focusing. A heat-resistant knob with indexed position markings is located on the rear of the housing for adjusting and locking the reflector into position.
Product Features
Rents complete with a 11.5" x 10.25" color frame
Optional yoke and C-Clamp for single cell pipe hangs
Optional hanging irons and C-Clamps for multi cell pipe hangs
Strong spring latches allowing tool-free interconnection for multiple units in a variety of configurations
Default is a 500W lamp but 300W 750W and 1000W 1500W are available
Broad, even light distribution
Pivoting reflector allowing a multitude of focus angles
Strong, extra fine safety screen provided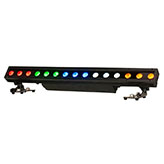 Adj 15 Hex Bar
The ADJ 15 HEX BAR IP is an IP65 rated multi-functional wash linear fixture for indoor or outdoor use. It features 15x 12W HEX LEDs (6-IN-1 – RGBWA+UV), 5 individually controlled sections with Zone Control and a 25-degree beam angle. With an all metal, black housing and IP65 outdoor rating, its protected from elements - dust, sand, moisture and liquids. It includes a removable diffusion filter to change the beam angle.
On the rear panel it features, IP65 rated, 5-pin XLR, DMX In/Out connections, and Seetronic IP65 rated, power locking In/Out connections to daisy chain power and data. Both the DMX and power connections are fitted with rubber protective covers. An OLED display with touch buttons helps to easily navigate the functions of the fixture.
The 15 HEX BAR IP is flicker free for film and broadcast, and has multiple DMX control modes and dimming modes.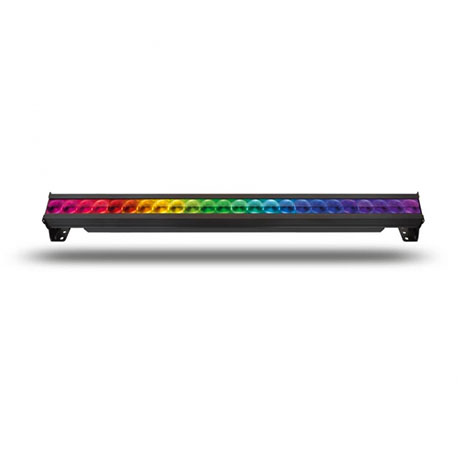 Color Force II 72™
The Chroma-Q® Color Force II 72™ is a truly multi-purpose LED fixture that is suitable for numerous entertainment lighting disciplines. With four powerful homogenized cells per foot/305mm, these units can be grouped and controlled to release your creativity. Unsightly color shadowing is eliminated with this innovative optical system that gives power enough to light nearly 12m of cyclorama. Perfect for a wide range of cyclorama, flood, and wall washing applications where a powerful throw is needed. Available in 6 ft / 1.8m, 4 ft / 1.2m, 1 ft / 0.3m versions, these fixtures are specifically designed to fit in flight cases used with the original Color Force.
Product Features
Featuring Chroma-Q's proven award-winning technology
Over 18,000 hot lumens will easily wash a 12m / 39 ft. cyc
Extremely smooth, uniform output
Homogenized RGBA colour mixing
Pixel control to 76mm/3in increments
High CRI of 92
Theatrical grade dimming
Rugged extruded aluminium body
Built-in power supply
Chroma-Q calibration means: superior fixture-to-fixture consistency
Works great in any theatre, TV, concert touring, exhibition, or corporate event
Optional internal LumenRadio
Touchscreen user interface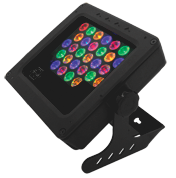 Chroma-Q Color Force Compact
The Chroma-Q™ Color Force Compact is a powerful creative lighting tool that works in perfect harmony with the popular Color Force™ range. The Compact is a cost-effective workhorse, ideal for a wide range of applications. Utilising core LED technology from the Color Force range, the fixture provides 1700 lumens in a cost-effective, slim, compact profile, while maintaining colour compatibility with the rest of the range.
Product Features
Compact yet powerful - 1700 lumens from a very small footprint.
IP65 rated.
Multi-purpose-workhorse fixture - suitable for a wide range of applications.
Deep cold blues, red hot lava and super-soft pastels - from a single fixture.
High CRI of 92 - true colour balance across the spectrum.
Custom optics - ensure a smooth even beam.
Theatrical grade dimming - suitable for a wide range of applications.
Accepts City Theatrical accessories - use with your existing accessories.

Altman 18" Scoop
A lightweight multi-purpose ellipsoidal reflector floodlight, the 18" scoop scoop produces a very diffuse soft edged beam of 20 feet in diameter at a distance of 7.5 feet. The 18" scoop is designed to operate both standard incandescent and high color temperature tungsten halogen lamps. The luminaire is used in theatre and television as both a flood light and a cyclorama fixture. Other uses include photographic and television fill light. The scoop is an ideal fixture for color blending and for creating smooth even washes of light.
Product Features
Rents complete with a Mega C-Clamp, Safety Cable and a 19" round color frame
Default lamp is a 1000W lamp but 300W & 1500W are available
Heavy spun aluminum construction
Processed matte aluminum reflector