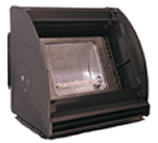 Altman Focusing Cyclorama
The award-winning Focusing Cyc is a lightweight, compact luminaire designed to provide an even wash of light on cycloramas and backdrops. This lighting instrument can also be used as a multi- purpose flood/fill light for stage and studio lighting applications. The Focusing Cyc has been designed and engineered with a number of innovative details and features that enhance its versatility, efficiency, and performance. Each compartment has a state-of-the-art, highly polished and peened reflector that pivots about the lamp for precision focusing. A heat-resistant knob with indexed position markings is located on the rear of the housing for adjusting and locking the reflector into position.
Product Features
Rents complete with a 11.5" x 10.25" color frame
Optional yoke and C-Clamp for single cell pipe hangs
Optional hanging irons and C-Clamps for multi cell pipe hangs
Strong spring latches allowing tool-free interconnection for multiple units in a variety of configurations
Default is a 500W lamp but 300W 750W and 1000W 1500W are available
Broad, even light distribution
Pivoting reflector allowing a multitude of focus angles
Strong, extra fine safety screen provided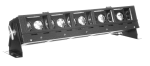 L&E 6' 3 circuit Mini-Strip™
L&E's Mini-Strip™ has been referred to as the Rolls Royce™ of MR-16 striplights. You can use the UL edition of our popular Mini-Strip™ to do more than you did with the original. Now you can use them in even tighter spaces than before - they have the smallest cross section available in a MR-16 strip. You'll also find them more convenient to use with front mounted indicator lights, double color frame holders, large hinged access doors, and lampholders mounted with top-access screws.
Product Features
6'3" long, weighs in at 45 pounds
3 circuits with female stage pin pass throughs
10 25W MR-16 lamps per circuit, for a total of 750W
Rents complete with 4-11/16" x 3-5/16" color frames. 15 total
Rents complete with floor trunions or hanging irons and C-Clamps for pipe mount
Dual color frame slots

Altman 18" Scoop
A lightweight multi-purpose ellipsoidal reflector floodlight, the 18" scoop scoop produces a very diffuse soft edged beam of 20 feet in diameter at a distance of 7.5 feet. The 18" scoop is designed to operate both standard incandescent and high color temperature tungsten halogen lamps. The luminaire is used in theatre and television as both a flood light and a cyclorama fixture. Other uses include photographic and television fill light. The scoop is an ideal fixture for color blending and for creating smooth even washes of light.
Product Features
Rents complete with a Mega C-Clamp, Safety Cable and a 19" round color frame
Default lamp is a 1000W lamp but 300W & 1500W are available
Heavy spun aluminum construction
Processed matte aluminum reflector