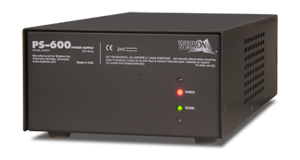 Wybron PS-600 Power Supply
Nearly all of Wybron's lighting products use an external power supply. This supply not only provides 24 volts DC, but also a control signal using industry standard DMX/RDM. A cable with power and signal integrated into one jacket makes for quick and easy wiring of the system. All of our devices are designed to be daisy chained so all the fixtures on a pipe or in the same area can be easily wired together, one after another.
Wybron's PS 600 Power Supply™ attaches easily to a truss or can be mounted into a 19-inch rack. For rack mounting, all the connectors including power in are on the back. Power and signal indicator lights are duplicated on the front so when the power supply is rack mounted, it is easy to see the status of each power supply.
Up to 24 small format ColoramIT's or CXI IT's or 64 Forerunners is the capacity of the PS 150. Look at this chart for more information on how many units can be powered by this supply. The eight outputs use 4 pin cables that are especially designed by us and custom made. The power conductors are 14 gauge and the signal is 22 gauge twisted pair, shielded. The input connectors are XLR 5 pin with in and out connectors provided for easy daisy chaining of the DMX/RDM signal.
Product Features
Model Number: 20600
Width: 7.8 inches/198 mm
Height: 4.1 inches/104 mm
Length: 14.0 inches/356 mm
Weight: 7.9 lbs/3.6 kg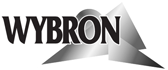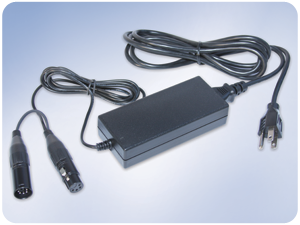 Apollo Smart Power™ 75W Power Supply
Smart Power™ power supplies provide 24 VDC to lighting accessories such as Smart Move® rotators and Smart Color® scrollers as well as control indexing devices with a DMX signal.

Do Not Plug Into Dimmed Sources.
Product Features
100-240 volt input, 24 volt output
3.12 Amps
47-63 Hz
75W max
Includes 5-pin male XLR: 4-pin female XLR
Dimensions: 7" (H) x 3" (W) x 1" (D) 177.8mm (H) x 76.2mm (W) x 25.4mm (D)
Weight: 1.5 lbs
Compatible Equipment and Power Needs
Apollo EZ Iris - 9.6 watts
Apollo Smart Color PRO Scroller - 26 watts
Apollo Smart Color Scroller - 38 watts
Apollo MXR Color Mixing Scroller - 42 watts
Apollo Smart Move DMX - 13.5 watts
Apollo Smart Move Vertical - 13.5 watts
Apollo Roto-Q DMX - 12 watts
AC Lighting Chroma Q Broadway - 22 watts
AC Lighting Chroma Q M1, 2, 5, 8 - 36 watts
City Theatrical DMX Iris - 8.5 watts
DHA Twin DMX - 12 watts
Gam DMX Twin Spin - 14.4 watts
Gam SX-4, 6 Gobo Tray - 10.8 watts
Rainbow 6", 8", 12" Pro Colour Scroller - 14 watts
Rosco I-Cue Mirror - 17 watts
Rosco DMX Rotator - 6 watts
Wybron Forerunner - 14 watts
*Show Lighting Corp is not resonsible for the accuracy of this table, please do your research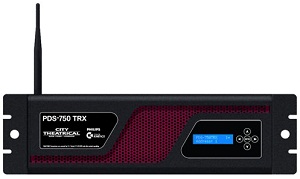 City Theatrical PDS-750 TRX
A versatile, quiet, multi-protocol power / data supply designed for entertainment and event installations with Philips Color Kinetics fixtures, including the latest generation of LED lighting: ColorBlast TRX, ColorBlast TR (16 and 8 bit), and iW Blast TR.
Product Features
12 output ports
Accepts KiNET, Streaming ACN, and Art-Net. Supports USITT standard 5-pin DMX and ESTA RDM
DMX input and output. Includes wireless DMX via a built-in SHoW wireless receiver. Compatible with our SHoW Wireless DMX units
Built-in Ethernet switch provides pass-thru to downstream devices. Built-in Ethernet node gateway allows output to one of two virtual DMX512 universes.
On-board controls include addressing, fixture configuration, and triggering of seven configurable visual effects
Convection cooled for noiseless operation
NEMA 1 (IP20) enclosure is ideal for temporary installations and demanding environments typical of entertainment and rental applications
Small form factor, with an integrated carrying handle that can be mounted via C-clamp on a pipe or truss.
Automatically accommodates input voltages ranging from 100 VAC to 240 VAC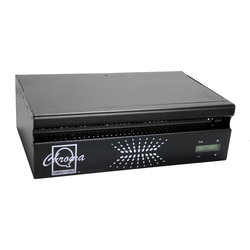 Chroma-Q Color Force PSU-15
The Color Force Compact PSU15 is a 15-way Power Supply unit that supplies power and data for a maximum total of 15 Color Force Compact fixtures. The Color Force Compact power supply unit features 3 XLR4 outputs and each output with a maximum capacity of 5 fixtures daisy-chained together.
Product Features
Controls up to 15 Color Force Compact fixtures.
18 control modes.
3 grouping modes.
23 pre-programmed looks.
Stores up to 31 user programmed looks.
Can be mounted in a standard 19" rack or hung from a truss.
Backlit LCD display.
Wireless control between units as receiver and transmitter.