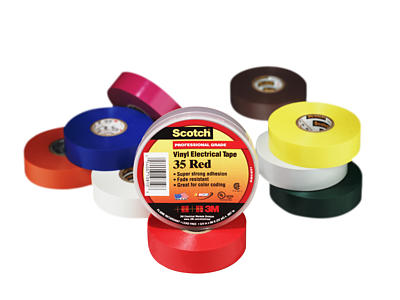 Scotch® Vinyl Electrical Tape 35
Scotch® Vinyl Electrical Tape 35 is a 7 mil (0,178 mm) polyvinyl chloride (PVC) color-coding tape. Outstanding electrical and mechanical properties make this tape excellent for use in phase identification, color coding of motor leads and piping systems, and for marking safety areas. Scotch Tape 35 operates over a wide range of temperatures – up to 221°F (105°C); applies smoothly and conforms well above 32°F (0°C). This tape is available in nine fade resistant colors.
Product Features
Color coding for phase identification, job identification and safety
Insulating electrical wiring
Protecting electrical conductors, motor leads and piping from moisture, alkalis, acids, corrosion, abrasion and weather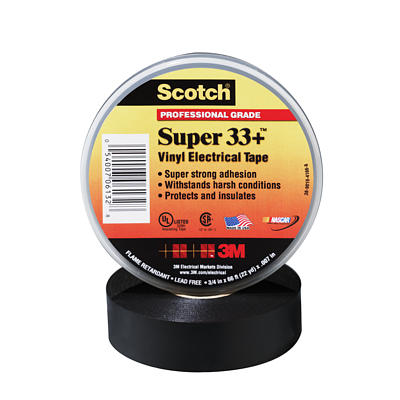 Scotch® Super 33+ Vinyl Electrical Tape
Scotch® Super 33+ Vinyl Electrical Tape is a premium grade, 7 mil thick, all–weather vinyl-insulating tape. It is designed to perform continuously in ambient temperatures up to 105°C (220°F). The tape is conformable for cold weather application down to –18°C (0°F). It has excellent resistance to abrasion, moisture, alkalies, acids, corrosion and varying weather conditions (including ultraviolet exposure). The combination of elastic backing and aggressive adhesive provides moisture–tight electrical and mechanical protection with minimum bulk. Super 33+ is an Underwriters' Laboratories Listed and Canadian Standards Association Certified "Insulating Tape".
Product Features
UL Listed; UL 510 Standard "Insulating Tape" (product category OANZ), File E129200
CSA Certification; Standard C22.2 No.197–M1983 "PVC Insulating Tape," File LR 48769
Polyvinyl chloride (PVC) backing.
Pressure–sensitive rubber based adhesive.
Compatible with solid dielectric cable insulations.
Compatible with rubber and synthetic splicing compounds, as well as epoxy and polyurethane resins.
Inhibits corrosion of electrical conductors.
For indoor or outdoor applications.