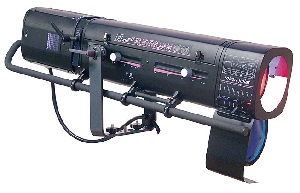 SUPER KORRIGAN 1200 Watt HMI 7° - 14.5° Zoom - 110V
Super Korrigan is a new model of the 1,200W HMI Korrigan followspot. With its new high performance double condenser optical system it produces 25% more light output than the older model and incorporates the popular fingertip shutter control that was first introduced in the Manon/Topaze series.
Up for sale we have 2 used Super Korrigans. Used very gently, in very good condition.
Clearance Price = $6,490.00 each
Product Features
External ballast with a NEMA 5-15 edison connector
Lamp: HMI 1200 W/GS Hot Restrike
Six color boomerang color changer
Available "A" Size Universal Gobo Holder
100% Closing Iris
100% Closing Mechanical Dimmer
Frost on Flip Lever
Tripod stand with individual leveling legs