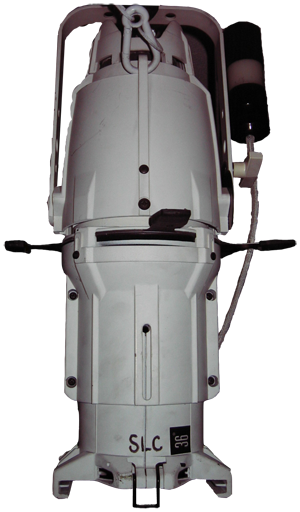 White ETC Source Four® 36° Ellipsoidal
ETC Source Four®-brand lighting fixtures are the first choice of entertainment-lighting professionals worldwide. No other lights provide such lighting punch while keeping heat generation to a minimum and providing radical energy savings. And Source Four optics have yet to be surpassed in imaging excellence. These are the world's best lights – with more than two million units shining brightly in entertainment venues across the globe – outperforming and outlasting all others.
On clearance now we have a white 36° ellipsoidal. This particular unit is an older vintage, manufacturer date of 11/98. We are selling it for a rock bottom price due to its age. This light has been serviced and is completly functional.It is covered with our one year in house warranty.
ETC's Source Four® Minisite
Clearance Price = $300.00
Product Features
Sold complete with an ETC C-Clamp, safety cable and a 6.25" color frame
Brand new 575W lamp
36° barrel
Factory white powder coat
Super-efficient HPL lamp
Die-cast faceted reflector
Die-cast aluminum construction
Has an effects gate that accepts 4 5/8" assesories such as gobo rotators, iris', GAM Film FX
Check the effects section for for accesories such as color scrollers and top hats that can be utilized with 6.25" instruments.